Licensed & Insured
Affordable Rates
24/7 Repair Service
5-Star Record
Trusted Appliance Repairs
What sets us apart from the rest is our commitment to quality work and transparent pricing. That's why we're one of Renfrew-Colingwood's most trusted appliance repair experts. We've been fixing appliances for over 15 years now, and our technicians are fully licensed, insured, and trained to tackle any appliance issue promptly and efficiently. Our goal is to make our first visit to your home the only visit to your home.
Trust our team for speedy appliance repairs done right the first time. We have the knowledge, the tools and the experience to fix any major household appliance, no matter how complicated the issue.
Brands we Fix
Here at Capital Appliance Repair, we're experts in repairing major household appliances, no matter the make or model. Our rich experience allows us to perform fast and efficient repairs on any fridge, stove, oven, washer, dryer, dishwasher or freezer in a timely and effocient manner. Check out the brands we work with below: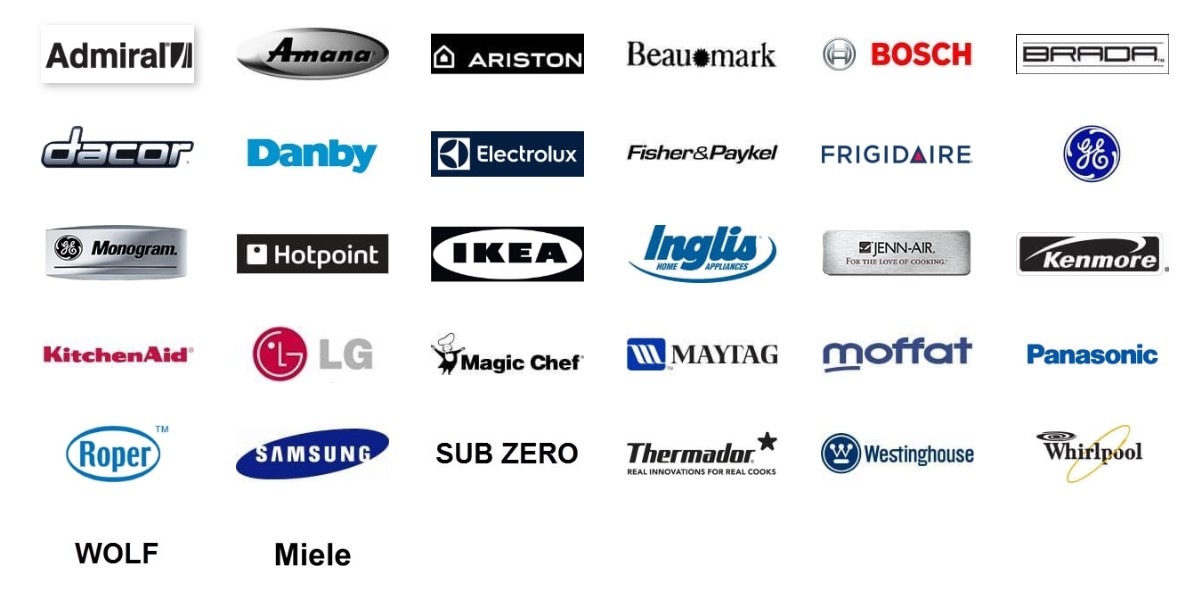 Skilled Appliance Repair Technicians
We're one of Renfrew Collingwood most trusted appliance repair companies because we're dedicated to quality work. Our friendly technicians are always at your service when you need appliance repairs done right. Here's why you should choose us for all your appliance repairs:

VAST EXPERIENCE
With over 15 years in the appliance repair business, we know how to fix any issue.

QUICK SERVICE
We're available 7 days a week for appliance repair service anywhere in Renfrew Collingwood.

QUALITY GUARANTEE
We provide our customers with up to 1 year's warranty on our repairs.

RELIABILITY & TRUST
We're dedicated to making our customers happy with fast and reliable services.

LOW COST
We're all about affordable and reliable services. Our prices are fully transparent.

EXPERT TECHNICIANS
Our technicians are fully trained to fix any appliance fault, no matter the model.
Renfrew-Collingwood Appliance Repair Experts
When you need professional appliance repairs done right, you can count on our expert technicians.
Contact our team today at (778) 819-2311

Contact Us Today
Your Local Renfrew-Collingwood Appliance Repair Pros
Is your dishwasher leaking? Perhaps your fridge isn't cooling well? Maybe you've got a faulty stove burner? Whatever the issue, we know how to fix it. We fix appliances for a living, and we're Renfrew Colingwood's top choice for quality appliance repairs. As a local, family operated business, we care aboutr our customers, and we offer a 100% satisfaction guarantee to all our clients. We're here to make your appliances work smoothly with expert repairs performed by licensed professionals.
In-home Renfrew-Collingwood appliance repairs:
We're at your service whenever you need us. Our technicians are available for 7 days a week, even on weekends and holidays.
We've got the skills, tools and parts to fix any faulty appliance.
Because of our rich experience, we know how to perform speedy, hassle free repairs.
Most of our repairs are covered by our warranty for added peace of mind.
We're homeowners too, and we know just how stressful it can be to have a broken appliance in your household. We're here to make your life easier with repairs done right the first time, transparent services and affordable prices. Our commitment to quality work is what makes us stand out from the rest, and we're dedicated to providing residents of Renfrew-Collingwood with stress free appliance repairs.
Contact Us Today!
For Renfrew-Collingwood appliance repairs you can fully trust, contact Capital Appliance Repair today!